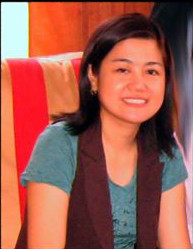 Jocelyn Soriano is a CPA / auditor, life coach/confidant and freelance writer who blogs about personal development, relationships, career and spirituality at her website www.itakeoffthemask.com She is a bookworm, a music lover, an internet geek, a poet, and an aspiring novelist. She loves to be at home, enjoys occasional adventures and becomes happy with the simplest things like coffee, a walk along the beach or hearing birds sing by her window when she wakes up.
She dreams that one day, every person would know how much God loves them, not for who they want or pretend to be, but for who they really are!

You can hire Joyce for the following services:
life coaching/confidant support
public speaking
freelance writing
guest blog posting
book co-authorship
(Please inquire for availability of schedule.)
Blog advertisements are also welcome!
Contact Joyce using the following form:
My Life Statement
I will go through this life only once,
and I shall have but one chance to live;
Not all people will like me,
others may even despise me,
as I may not be easily understood;
Yet I will take this chance to live,
and I will reach out in ways I know;
I will love those whom I can,
and I will strive to understand them more;
Not all days will bring me sunshine,
so I will rejoice also for the rain;
Not every endeavor will be a success,
but I will savor the victories I achieve;
Not all dreams I dream will be mine,
but in time new dreams will fill my heart,
and as from a star those hopes
will propel me forward
doing everything the best way I know I can;
No fear shall trample me whatsoever,
though some tasks seem to outweigh my strength;
I will only do what I have to do,
and God will take care of the rest!