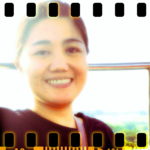 Hi, I'm Joyce!
I'm here to listen and to pray for you.
YOU ARE NOT ALONE.
Write to Joyce
Seasons of happiness
In this life, we will pass through many seasons of happiness and sorrow, day and night, springtime and winter. What's important is to keep our hopes up that the sun will shine even more brighter after every storm.
Happiness comes from…
There is a happiness that comes from knowing all is well, and you are surely walking in a path that will lead you to your dreams. And there is a happiness that simply comes from knowing all will be well, and whatever comes, you can be able to deal with it and handle it well. Now that's confidence. That's faith!
Our Heart's Desire
There are times when God doesn't give us the things we ask for because He knows the things we truly desire; desires we may not even be aware of because we do not truly know ourselves.
Trust Love
Trust love: real love, pure love; something good always comes out of it.
Someone to Trust
Joy is knowing there is somebody right beside you whom you can trust with your life, especially at times when you can't even trust yourself anymore.
The gift of knowing you are well
The greatest gift we can give to our loved ones is the gift of knowing that we are well, and that we are joyful.
A new world
Joy is when a whole new world opens before your very eyes, and you find that there is yet much to do, much to cherrish, and much to love.
Gladness from things to come
Even the dreams that have yet to happen can make us happy simply by dreaming them. For as far as we know, their joy have already arrived in our hearts. For if we can dampen our days by worrying about the things that may or may not happen, how can we not brighten our days also with beautiful things that are yet to come?
Melancholy
Melancholy is the burden that I have to carry, the cross I have to bear now and then so I can continue to be a bearer of JOY. That in my pain I may yet understand the pain of others. And that in receiving God's comfort, I may know how to comfort those who also bleed.
My Most Precious Joy
I've found my most precious joy in my darkest hour, in the arms of my God.
True Joy
True Joy is one that can embrace even the heart ofsorrow, leaving its remembrance therein without defiling it with even the smallest kind of disrespect.
Joy In Surrender
I have worn myself out scheming for my desired end, yet only in surrended did I find an end far more than what I could have ever hoped for.!
366 Days of Compassion
One Year Devotional Book
"Your companion for healing."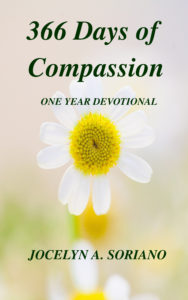 "The deepest wounds of the soul are healed only by compassion…
People do not merely need to be clothed, they need to be
embraced with love.
A love that enters into their own fears and frailty, a love that suffers with them and stays with them
through their darkest hour."
READ MORE - 366 Days of Compassion
I will betroth you to me forever. Yes, I will betroth you to me in righteousness, in justice, in loving kindness, and in compassion.
– Hosea 2