THE JOYS OF HEAVEN
Many writers of old failed to depict the joys of heaven together with the many sufferings the saints went through. As a result, the path to heaven became a cumbersome, thorn-laden, useless road that leads only to a tasteless, meaningless and boring heaven no one would care go to except those with sado-masochistic tendencies.
Is that heaven? Not at all! Is it worth it? Of course! Definitely. Without a doubt. Yet let us be more patient in awaiting some clearer stories of it, some more inspiring thoughts. Or better yet, pray that we ourselves may have a glimpse of it down here, that we may know what it is we have been yearning for all along.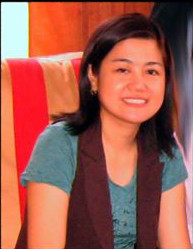 Hi, I'm Joyce! If there is anything that's bothering you, or if you just need someone to talk to and pray for you, you can write to me by clicking here YOU ARE NOT ALONE.
"I bare my nakedness to the world that the world may see who I am; not the mask that hides my flaws, not the mask that hides my beauty. I bask in the light and I TAKE OFF THE MASK!"