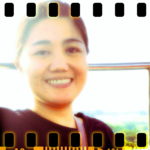 Hi, I'm Joyce!
I'm here to listen and to pray for you.
YOU ARE NOT ALONE.
Write to Joyce

We cannot love others
in the truest sense
of the word,
if we do not even know
how to love
ourselves.
If we truly wish to love,
to give generously and sincerely,
we must ensure that
we are holding out
our overflowing cups.

Not our half-empty ones
waiting to be filled.
How do I love myself? How do I learn to love myself more?

1.BE KIND TO YOURSELF
One of my good friends told me that everyday, we have upon us the responsibility to make at least one person happy, even if it means being that person ourselves.
It may have been such a long time since you have thought about yourself. You've thought of too many things about others, but have forgotten the things that bring about your own happiness.
Discover them again.
List them down and read them over until your heart could remember once more.
Following are some of the things I enjoy:
1.Coffee
2.Chocolate
3.Early mornings, a lovely sunrise
4.Books
5.Music
6.Fried chicken
7.A drizzle
8.Computer games
9.Movies
10.Musicales, concerts
11.Paintings
12.Taking pictures of beautiful sceneries and simple folks
13.Taking a walk
14.Time with family and friends
15.Traveling
Now it's time for your own list.
Things you enjoy:
1.
2.
3.
4.
5.
6.
7.
8.
9.
10.
2. KNOW YOURSELF!
Being kind to ourselves
and doing the things
we enjoy
helps us discover
the person we truly are;
the person we may have
never known until now!
I urge you to know
who you really are;
in your eyes,
in your heart.
Know thyself,
especially your strengths.
Know that which is
beautiful.
Know that which is
loveable.
Know that which has made you
the unique and wonderful
person that you are!
You are not the good-for-nothing person you thought you were. In fact, you're not that bad at all. You want to do good things! It's just that we may have been afraid of ourselves for so long; we've been afraid to look at the mirror for fear of seeing some monster we do not wish to be.
My friend, would you kindly do something for yourself? Take a good look at the mirror today and see the beautiful one you have ignored for so long.
3. HELP YOURSELF GROW
Once you have discovered
who you really are,
you can start
the exciting journey
of growth
towards your
infinite potentials.
We should not be content
merely knowing who we are,
but always strive to be
the person we could still become!
Dream,
Seize your dreams,
Then dream again!
Only in flowing
can the river
remain to be a river.
Only in growing
can life prevail
over death!
SOARING HIGHER
Why should I be afraid to fly?
And why should I be afraid to try?
I was born to meet the sky;
I was born to meet the sky and fly!
I may fall once,
I may fall twice,
I may fall so many times,
But I will not fall always!
I will try again and again and fly!
Spread your wings now,
Get ready!
Let go of your fears
as you leave the ground.
Be prepared now, steady.
You're getting better,
You're flying faster,
You're soaring higher up the sky!
List down the things
you've always wanted to do.
List down the things
you've always wanted to learn.
List down the places
you've always wanted to go to.
List down your dreams,
however big or small.
List down the kind of person
you've always wanted to be.
Go ahead.
a.Enroll in that photography class.
You are never too old to learn new things.
b.Make that hairdo change.
Surprise everyone (including yourself), with that cool change.
c.Climb that mountain.
Experience the physical and mental struggles along the way and bask in the glory of reaching the top after all that you've been through!
4. KNOW YOUR PURPOSE
It is not enough
that a man eats,
and drinks,
and sleeps.
It is not enough
that he breathes,
and that his heart
continues to beat.
Unless and until he knows his purpose,
he is not a man at all.
Spend time
away from the noise
and anxieties of the world;
away from the demands
and expectations of the crowd.
Listen to your inner self.
Hear the innermost desires of your heart.
Discover the task for which you were most equipped to do.
Know your purpose.
Do not be afraid to make mistakes.
And do not give up even if you fail many times.
Your mistakes will only bring you closer to the discovery of your true purpose – the role which only YOU can perform!

5. ACCEPT AND FORGIVE YOURSELF.
As much as we must learn to forgive others, so too, should we learn to forgive ourselves.
As much as we should learn about our strengths, so too, should we learn and accept our limitations.
The problem with us is that we often attribute every tiny bit of problem to ourselves.
In our obsession to be in control of everything, we consequently believe that anything that ever goes wrong is our fault.
Accept your faults.
Do everything you can to correct them.
But learn also that not everything is your fault. Learn that you cannot correct the things, which are beyond your control.
Stop trying to carry the burden of the world upon your shoulder.
Carry only your own cross.
That is all that is asked of you.
My friend, feel that you are loved,
not only by others, but first and foremost,
feel that you are loved
by your very self!
Starting this moment, can you promise yourself that you will be your own bestfriend? ?;-)
366 Days of Compassion
One Year Devotional Book
"Your companion for healing."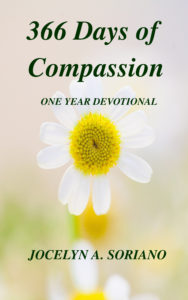 "The deepest wounds of the soul are healed only by compassion…
People do not merely need to be clothed, they need to be
embraced with love.
A love that enters into their own fears and frailty, a love that suffers with them and stays with them
through their darkest hour."
READ MORE - 366 Days of Compassion
I will betroth you to me forever. Yes, I will betroth you to me in righteousness, in justice, in loving kindness, and in compassion.
– Hosea 2