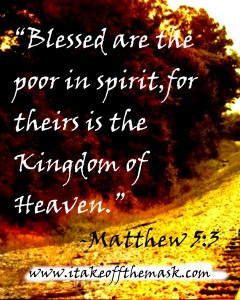 "The more you have, the more you are occupied, the less you give. But the less you have the more free you are. Poverty for us is a freedom." – Mother Teresa
It took some time before I realized how I was so full of certain things that I don't have room anymore for good things coming my way. I was so full of my own ideas, of my strategies, of my habits, even of my own righteousness. How then could life still enrich me? How could God give me better things when I can't let go of what has made me full and proud?
If I am to be enriched, I should first be poor. If I am to be filled, I should first empty myself, ready to welcome the greater things to come.
Jesus said to him, "If you want to be perfect, go, sell what you have, and give to the poor, and you will have treasure in heaven; and come, follow me." But when the young man heard the saying, he went away sad, for he was one who had great possessions. Jesus said to his disciples, "Most certainly I say to you, a rich man will enter into the Kingdom of Heaven with difficulty. Again I tell you, it is easier for a camel to go through a needle's eye, than for a rich man to enter into God's Kingdom." – Matthew 19:21-24, WEB