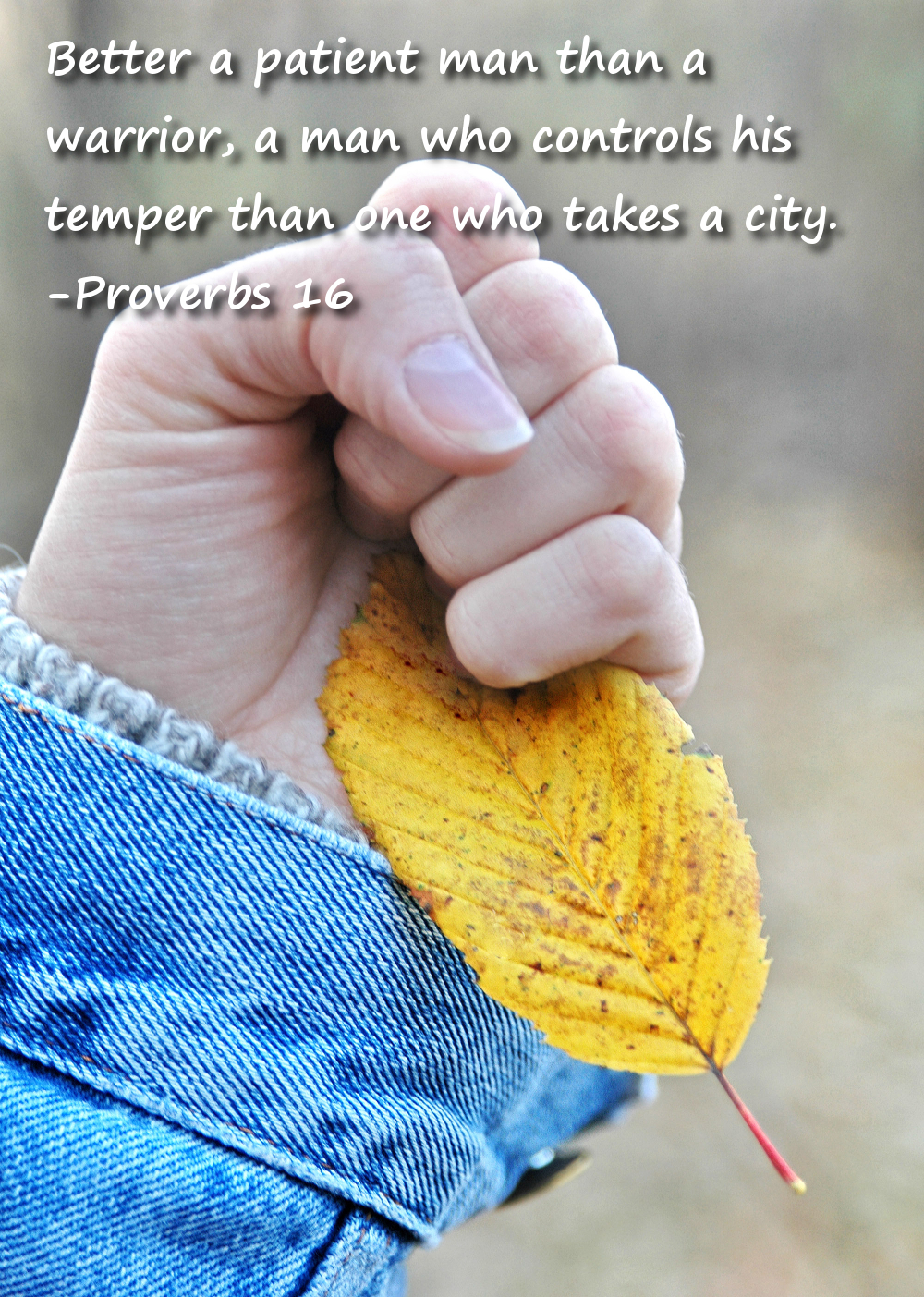 "If you become angry, do not let your anger lead you into sin, and do not stay angry all day. Don't give the Devil a chance." – Ephesians 4:26-27, GNT
What do we do in moments of intense anger? Here are some things I've realized through my own experience:
1. Flee at once in prayer! In times of anger, I need all the help I could get to be able to manage this strong emotion. Prayer helps because it gives me spiritual capacities far beyond my own human limitations.
Virtues are formed by prayer. Prayer preserves temperance. Prayer suppresses anger. Prayer prevents emotions of pride and envy. Prayer draws into the soul the Holy Spirit, and raises man to Heaven.-Saint Ephraem of Syria
2. Avoid acts you will later regret. Think of the people you could hurt, think of the damage that could arise in a moment of blind rage.
…but for Cain and his offering he had no regard. So Cain was very angry, and his countenance fell. The LORD said to Cain, "Why are you angry, and why has your countenance fallen? If you do well, will you not be accepted? And if you do not do well, sin is lurking at the door; its desire is for you, but you must master it." Cain said to his brother Abel, "Let us go out to the field." And when they were in the field, Cain rose up against his brother Abel, and killed him. -Genesis 4:5-8, NRSV-CE
One who is slow to anger is better than the mighty,
and one whose temper is controlled than one who captures a city.
-Proverbs 16:32, NRSV-CE
3. Do not be more angry than is necessary. Let your anger be proportionate to the needs of the moment. Often, trouble comes when we allow our anger to linger longer or to grow bigger than it should. If you feel that you are the type of person who gets controlled by your emotions, try to put a stop to your anger as early as you possibly could!
…anger…once admitted, it will not be easily expelled, for, though at first but a small plant, it will immediately grow into a large tree."-Saint Augustine
4. Focus on calming down instead of feeding the fire of your anger.
…and if through weakness and frailty one is overtaken by it, it is far better to put it away forcibly than to parley with it; for give anger ever so little way, and it will become master, like the serpent, who easily works in its body wherever it can once introduce its head. -St. Francis de Sales, Introduction to the Devout Life
5. Douse the fire of your anger with thoughts of love and of peace.
You, LORD, give perfect peace
to those who keep their purpose firm
and put their trust in you.
-Isaiah 26:3, GNT
If you follow the will of God, you know that in spite of all the terrible things that happen to you, you will never lose a final refuge. You know that the foundation of the world is love, so that even when no human being can or will help you, you may go on, trusting in the One that loves you. –Pope Benedict XVI
6. Try to heal the wounds and issues that come up again and again in times of crisis and that causes you to be more angry and vulnerable. Let God be your Healer as you cry to Him and open up your heart.
Come to me, all you that are weary and are carrying heavy burdens, and I will give you rest. Take my yoke upon you, and learn from me; for I am gentle and humble in heart, and you will find rest for your souls. For my yoke is easy, and my burden is light. – Matthew 11:28-30, NRSV-CE
It is better to cry than to be angry, because anger hurts others, while tears flow silently though the soul and cleanses the heart.-Pope John Paul II
7. Get up after every fall. Don't give in to despair. Rather, ask forgiveness from God and from those you may have unduly hurt.
If we confess our sins, he who is faithful and just will forgive us our sins and cleanse us from all unrighteousness. – 1 John 1:9, NRSV-CE
There is an anger which is engendered of evil, and there is an anger engendered of good. Hastiness of temper is the cause of the evil, divine principle is the cause of the good… -Pope St. Gregory the Great
"When you are surprised by anger on account of some misfortune, some injury, some wrong or affront, suppress it as soon as you discover it. You should not be angry about these things, which God permits for your good, to keep you detached from the world, confident in Him alone, and above all things humble…Then when it comes on you because you see offences offered to God, duties transgressed, virtue vilified…be content to bridle it, that it may not in an unruly manner overpass the limits of what is just and right…A just anger is a fire that is necessary to give warmth and life to our zeal for the glory of God and the salvation of our neighbour." – Joseph Frassinetti, The Consolation of the Devout Soul