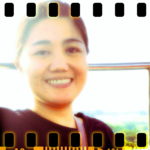 Hi, I'm Joyce!
I'm here to listen and to pray for you.
YOU ARE NOT ALONE.
Write to Joyce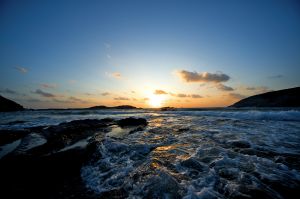 This is a sad time and a sad generation. Although there is no world war, although the technology to live a comfortable life has never been as advanced, although we can now reach one another in a click of a button; all the good things we possess can't seem to cast away the dark clouds that hang everywhere, obscuring the azure sky, blocking the warmth of our bright and faithful sun.
Stripped of its radiance, we walk on cold pavements each day, flaunting the calloused hearts that hold back our tears, wandering the streets hurriedly, as though we knew where we should be going. The truth however is that we walk naked, pretending we are strong, numbing our hearts and killing our souls, just so we can get by, just so we'd be the people our twisted society wants us to transform into.
Rich and poor alike are dying within, the humanity of their souls being sucked away either by the necessity of their survival or by their meaningless ambitions. Where then can we find that little piece of heaven, that small flame of hope that would keep us from stumbling in the dark?
I urge you to look more closely, for it is there, streaking through the thick fog, making its way through the darkness.
-Busy morning. You hurry off to work unable to take a single bite of breakfast. You arrive at your office. You see what's on top of your table. Coffee and croissant with a sweet note from a dear friend. You pause for a while, you savor the strong aroma of java, and take a good sip. Not much for a tv commercial, but enough to catch the first glimpse of sunlight of your day. A little piece of heaven.
–A man stricken with AIDS and considered an outcast. An old nun who reaches out, treats his wounds and embraces him warmly, passing no judgement, no fear, no condemnation. The man smiles and looks up to heaven. He breathes his last, but in that last breath was a breath of hope, and a renewed faith in God. A little piece of heaven.
–You got busted at work. On your way home you went through a hell of a traffic jam. Then right there at your doorstep, your two-year old child opens up her arms and hugs you. You feel her tiny fingers holding on unto you. She kisses you. Numerous little kisses that take away all your tiredness and frustrations. A little piece of heaven.
-A rebellious daughter. A patient and prayerful mother. A realization that brings a lasting change. Repentance. Daughter graduates valedictorian in her class. Mother listens to her speech, tears streaming down her cheeks. A little piece of heaven.
-A storm has just passed. The city lay in flood and ruins. In a few moments more, children emerge from their houses. They proudly carry the paper boats they've just made. No flood could dampen their spirits, no storm could darken the light in their eyes. You hear their laughter. You get infected with their joy. A little piece of heaven.
-It's way past lunch. The young scavenger still has to search heaps of garbage before she could buy anything to eat. Something unexpectedly catches her eyes. A soiled doll with blue eyes, a red apron, and a missing leg. She smiles for her good fortune. She's just found a gift for her little sister's birthday! A little piece of heaven.
-Christmas. An old lady lives alone. The doorbell suddenly rings. The house is quickly flooded with young professionals bearing gifts for their old teacher. They could not forget her motherly hand. They remain thankful for her wisdom. A little piece of heaven.
Have you seen them? Have you caught a single piece of happiness lately? You may not be looking. Or you may not feel you can give some little piece today. Look. Believe. Smile. A smile brings out a lot of sunbeams, and attracts streaks of happiness along the way. Catch a piece today, your very own piece of heaven.  🙂
You may also want to read: Will You Still Love Me Even If I'm Not Perfect?
366 Days of Compassion
One Year Devotional Book
"Your companion for healing."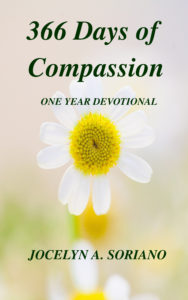 "The deepest wounds of the soul are healed only by compassion…
People do not merely need to be clothed, they need to be
embraced with love.
A love that enters into their own fears and frailty, a love that suffers with them and stays with them
through their darkest hour."
READ MORE - 366 Days of Compassion
I will betroth you to me forever. Yes, I will betroth you to me in righteousness, in justice, in loving kindness, and in compassion.
– Hosea 2